Norway - Hammerfest
If you want a unique destination for your Norway motorhome vacation then point your camper towards
Hammerfest
and go. A part of the Norway's Finnmark county this area is wide and includes the islands of Seiland, Kvaløya and Sørøya. Recently unearthed graves show that humans settled this area in the Stone Age and in later centuries Hammerfest was an important place for hunting and fishing. Despite its long history the town was only established in 1789 by Christian VII of Denmark-Norway. One of the world's northernmost cities Hammerfest's temperatures are surprisingly bearable (the mean annual temperature is 2 °C). Hammerfest t is the perfect place to visit if you want to see natural wonders like the Northern Lights and Midnight Sun, to participate in sports like hiking and fishing, or just to relax and drink in the quiet that comes from having travelled to the end of the world.

Five Must Sees in Hammerfest

1. Sigg Sagveien or The Zig-Zag Path
This charming walk from the port up to the top of a mountain takes about thirty to forty minutes to complete. The uphill portion of the walk is not especially difficult and you will be awarded with a gorgeous panoramic view of Hammerfest and its islands once you reach the top. Along the way there are several lovely sights to catch your eye and, in the right season, you will be able to see the multitude of fruit that grows on Hammerfest's hillsides.

2. The Northern Lights
It may not always be possible to see the Aurora Borealis in Hammerfest, but if you have the chance to its certainly not an opportunity to be missed. The best chance to see the Northern Lights is in the winter, at night and with a cloudless sky, but try for months like October or March when the temperatures are slightly warmer.
3.
The Midnight Sun
If you miss out on the northern lights because you're visiting Hammerfest in the summer then you can observe another natural phenomenon--the Midnight Sun. For two months a year it never gets dark in the Arctic Circle (although times do vary depending on exact location). It is a breathtaking sight to stand on a hill to watch the sun set between 11:00pm and midnight only to watch it rise again as it touches the ocean. In Hammerfest the best time to view the Midnight Sun is between May 16 and July 27.

Image by Sami Keinänen / wikipedia/Flickr - creative commons
4.
Mikkelgammen
Travel to this traditional native Sami "turf hut" to be served a meal of local delicacies--namely reindeer. You will get the chance to eat three courses around a campfire that includes reindeer soup and meat and a dessert of cloudberries, after which you will be treated to some traditional entertainment.
5.
Forsol
A picturesque and sleepy village of no more than forty or fifty houses, Forsol is the perfect place if you want to take a break on your motorhome vacation and just relax. Here you can enjoy nature, peace and quiet. If you would like to park your campervan rental for the day you can also rent a bike to ride to the village from Hammerfest.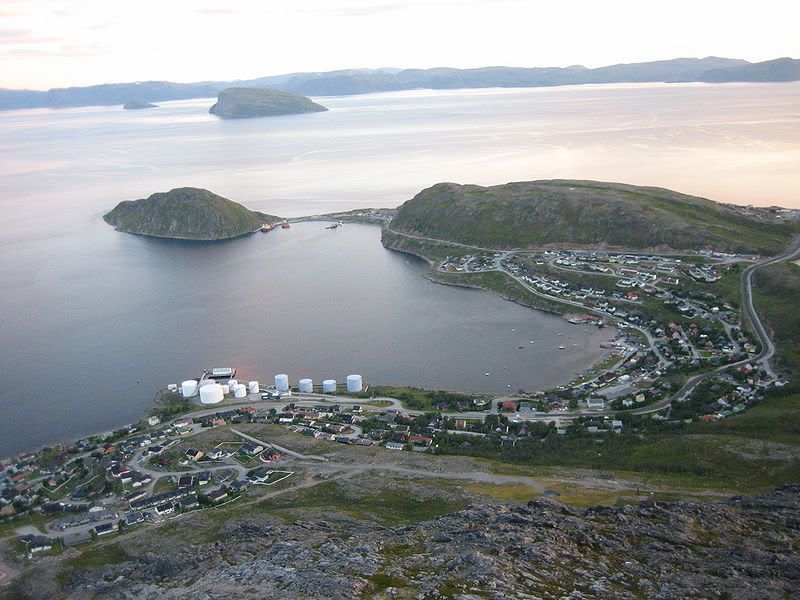 Image by  Manxruler / wikipedia - creative commons

If you are looking for an adventurous destination for your Norway motorhome vacation then why not opt for one of the world's northernmost locations? Aside from catching one of the local natural phenomenon like the Northern Lights and Midnight Sun, you can also choose to visit the nearby islands or the Lutheran Church, a great example of modern 1960s architecture. Of course, you can also catch a boat ride to the North Cape, look out for wildlife like reindeer and puffin, or stroll through Hammerfest's Market Square--complete with shopping, Town Hall and museum--or its harbour. It seems fitting that a place like Hammerfest would have endless days for part of the year, because with so much to see and do, who has time to sleep?

Travel Tip: For a restaurant with a great view try Turista, located on a hill above the city. For authentic local fare Odds Food and Winehouse is a good choice.