Norway - Bergen
There are several cities in Norway worth parking your campervan rental for and
Bergen
is certainly among them. Norway's second largest city is chalk full of activities, exciting sights, and both natural and architectural marvels. Whether you're haggling at the Bergen Fish Market or taking a ride up the nearby mountain in a funicular, you won't find yourself bored in the Gateway to the Fjords. Established in 1070, during the time of the Vikings, Bergen is not only a city that can lead you to many other beautiful places, but is also full of history and culture that will entice you stay awhile and enjoy.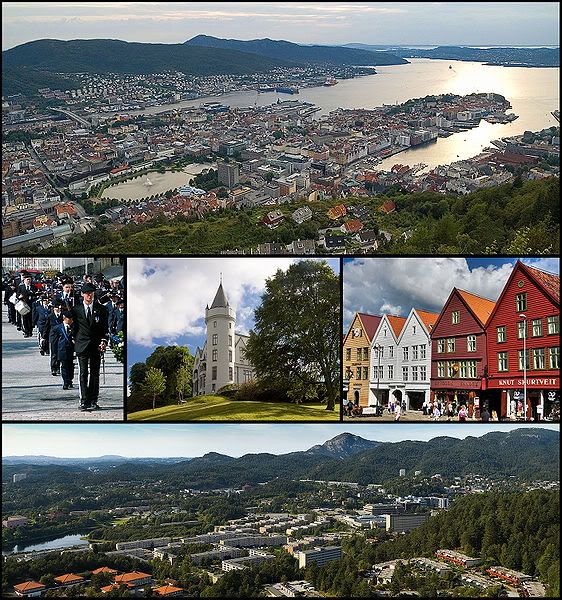 Individual images by Aqwis, Nina-no, Tomoyoshi Noguchi,G.Lanting, and Marku1988. Composite created by Aqwis/ wikipedia - creative commons


Five Must Sees in Bergen

1. Bryggen Hanseatic Wharf The city's first structures were built along this wharf, which has been a vibrant and integral part of Bergen from the beginning. A UNESCO World Heritage Site the wharf boasts the remains of a medieval city as well as old harbour buildings, one of the largest pedestrian zones in the area, and the wooden houses that Bergen is famous for. For those interested the Bergen Aquarium is also within walking distance.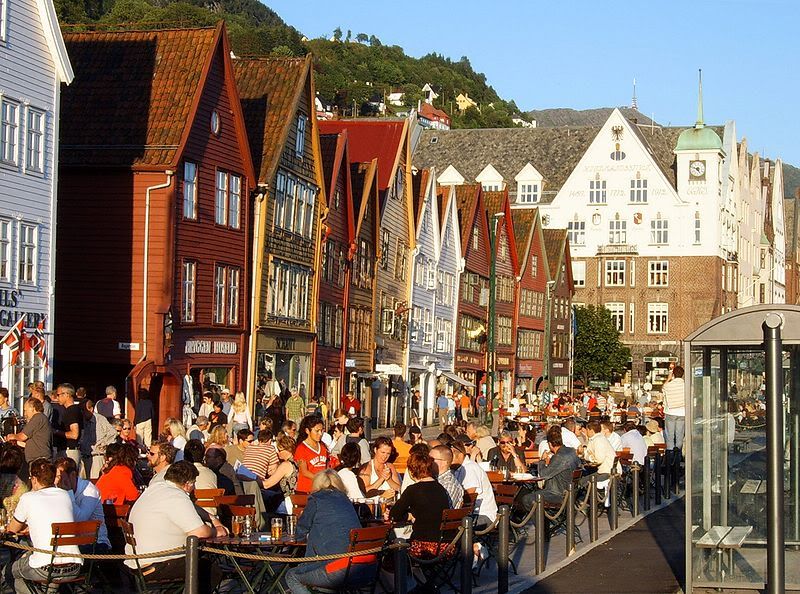 Original uploader was Vberger, derivative work: Massimo Catarinella/wikipedia - image has been released into the public domain

2. Bergen Fish Market Near the water you will find the city's Fish Market, an experience that is completely Bergen. In the city's horseshoe-shaped inner harbour, at the bottom of the steet's U-shape, you will find Bergen's famous fish market, which is easily accessible on foot. Walk around and get a taste of the real life of Bergen residents as well as the opportunities to taste test each booth's unique products including caviar and smoked fish.

3. Fantoft Stave Church The church in it's current incarnation is a replica of the historic building that was moved to this site in Fantoft from Fortun in 1883 and which later burned down in 1992. Located near Troldhaugen this beautiful church has been remade to look like the original, which was first built in 1150.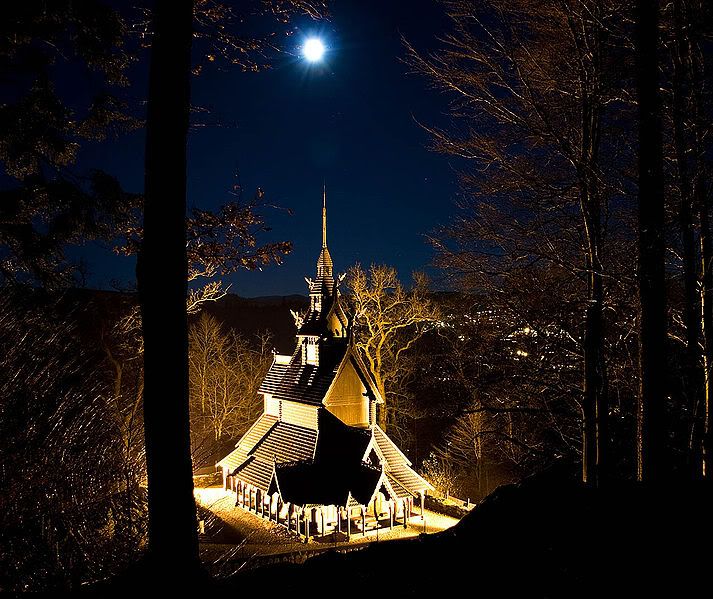 Image by Svein-Magne Tunli, wikipedia - creative commons

4. Funicular and Mount Floyen - Riding the Fløibanen Funicular to the top of Mount Floyen is an experience that will stay with you and a perfect opportunity to get a great, all encompassing view of Bergen. It is only a short ride from the city to Fløien Mountain's summit 320 metres above sea level and the trip will afford you the chance to capture beautiful vistas full of city, fjords, sea and mountain--all the elements that make Bergen a wonderful place to visit on your motorhome vacation. You may also want to take the cable car up Mount Ulriken one of the seven mountains that surround Bergen.



Image by Alasdair McLellan, wikipedia - image has been released into the public domain

5. Fjord Norway - You don't visit a city known as the Gateway to the Fjords and not actually see the fjords, right? This area in Western Norway includes tons of great scenery and many beautiful fjords to discover, including the famous Hardangerfjord and Sognefjord fjords. Whether you decide to explore this area yourself in your motorhome rental or sign up for a fjord tour Fjord Norway, outside Bergen, will undoubtedly be one of the highlights of your trip.



                              Image by Espt123, wikipedia - creative commons
If you have decided to tour Norway in a campervan rental then you should definitely put the city of Bergen on your lists of stops. Beautiful and lively, with a variety of gorgeous buildings, museums and theatres (like Fresco Hall Info Centre, Haakon's Hall and the Old Bergen Museum) to choose from. You can choose to visit the fjords and mountains on the outskirts of the city or the subterranean mareminehullet and the vibrant wharf area. Or enjoy the area's many festivals and its nightlife. There is truly something for everyone in the city of Bergen, which may be a gateway, but is also a destination in and of itself.


Travel Tip: To make your already economical motorhome vacation even easier on the pocketbook why not grab a Bergen Card while in the city? Check out
www.visitbergen.com/bergencard
for more details.